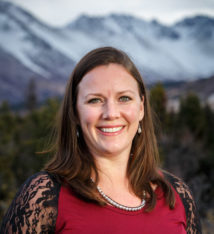 Bethany A. Myers graduated from the University of Utah with her Masters in the Physician Assistant Program in 2010. After growing up in Chugiak, Alaska, she left the state to attend Whitworth College in Spokane, Washington where Bethany obtained her degree as an Athletic Trainer, with minors in both Biology and Accounting.
Bethany worked in orthopedics and in surgical oncology in Utah for 9 years prior to returning home to Alaska. She assists Dr. Paisley in the operating room and also sees patients in clinic. Bethany is a member of the American Association of Physician Assistants, National Athletic Trainers Association, and the American Academy of Surgical Physician Assistants.
Bethany and her family enjoy hiking, climbing, skiing, cycling, and fishing as well as the amazing cuisine unique to Alaska.